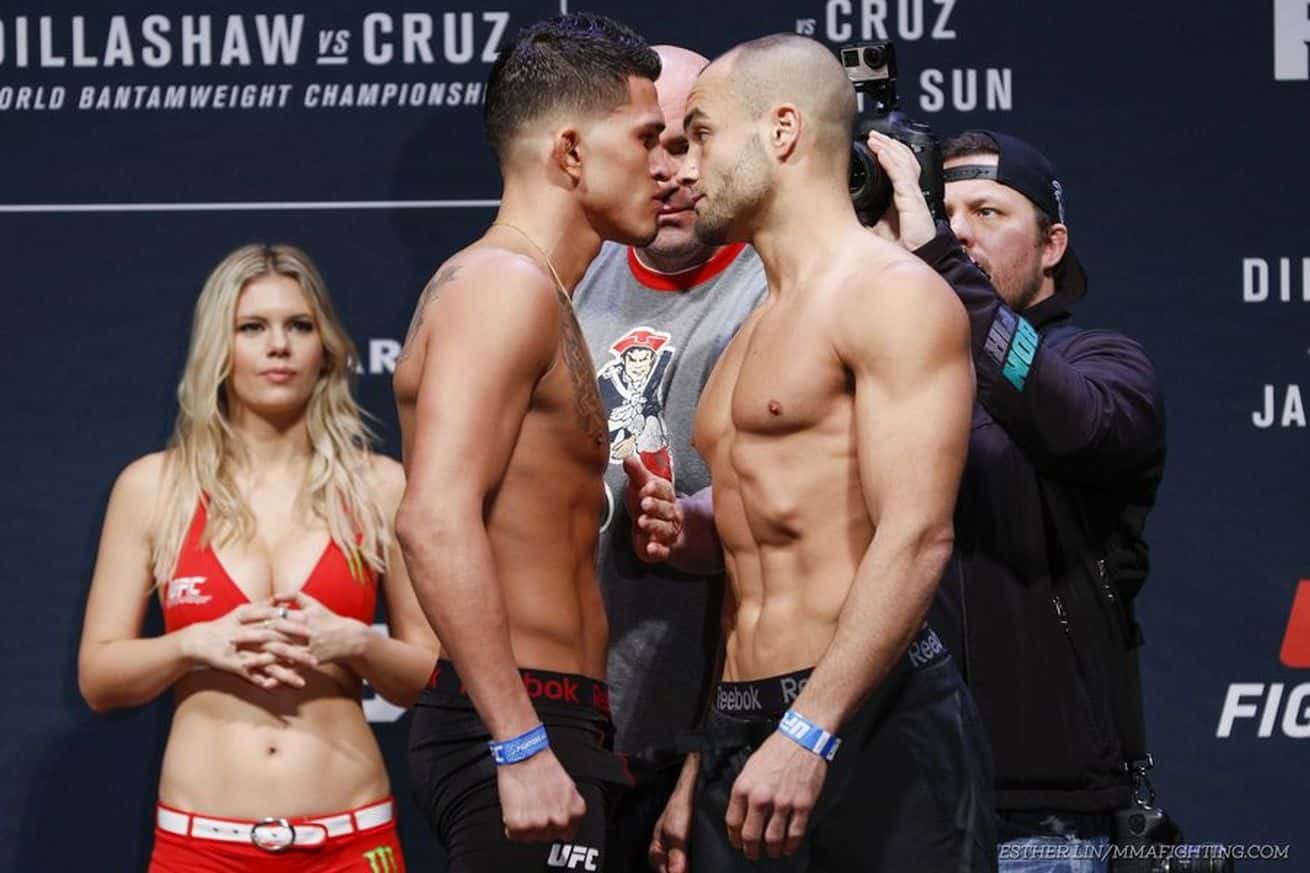 UFC Fight Night 81 – Anthony "Showtime" Pettis vs Eddie Alvarez – The Guy Blog
ROUND 1
HERE. WE. GO.
Both guys come out aggressive, both are testing their reach with their kicks. Alvarez goes for a takedown, has Pettis against the cage. Pettis tries for a guillotine, but can't get it. He does manage to get up. Alvarez, normally a very dynamic, active striker, has decided to start off by focusing on trying to get Pettis to the ground. He has him against the cage and won't let him go. Pettis is defending himself well, but Alvarez is nonstop.Alvarez is putting a lot of pressure on the former champ, who manages to get away from the cage. They are both in the middle of the octagon, Pettis goes for a spinning heel kick, Alvarez catches him and takes him down. Pettis gets back up and get a kick in to the body. Alvarez gets a kick to the body in, Pettis returns the favor. Fighters are in the center of the octagon, horn goes off, round ends.
ROUND 2
Again, both fighters come out aggressive, great fight so far. Both fighters are being active, but cautious. A jab or kick, but no combinations from either fighter. Alvarez keeps moving forward most of the time. Pettis gets a couple of kicks in, but nothing serious. Alvarez grapples Pettis, Pettis goes for a guillotine again but can't lock it in. Clean break and again to the middle of the octagon. Alvarez is looking like the more active fighter. They're exchanging kicks, amazing that neither fighter bothers to check them. Round ends like it started.
ROUND 3
Pettis starts the round with a couple of strong leg kicks. I feel like The Young Bucks should come out any minute for a superkick party. It's been that many kicks. Pettis looks calm, Alvarez still looks more aggressive. He's taken a couple of hits, but keeps coming. Alvarez gets Pettis against the cage, and straight to the ground. Pettis is trying to get a heel hook. Almost got it, but a couple of hammer fists to the face saved Alvarez. Pettis is up again, but still against the cage AND ALVAREZ GETS HIM DOWN AGAIN. This is not looking good for Pettis. Pettis manages to get back up, but can't get off the cage. Alvarez is looking to take him down again. One more take down and unless he pulls off a miracle, no way he wins. Pettis is down again, he fights his way back up with 40 seconds to go. Alright, 30 seconds and Pettis finally gets free, middle of the octagon, Pettis has no sense of urgency, clappers sound, round ends.
I have the fight 29-28 rounds for Eddie Alvarez.
Judges Decision: Winner by Split Decision, Eddie Alvarez.
Wow, split decision, that sounds crazy to me, but OK, at least the right fighter won.
As Always, let me know what you guys and gals thought of the fight on twitter @TheGuyBlog and Orlando@TheGuyBlog.com