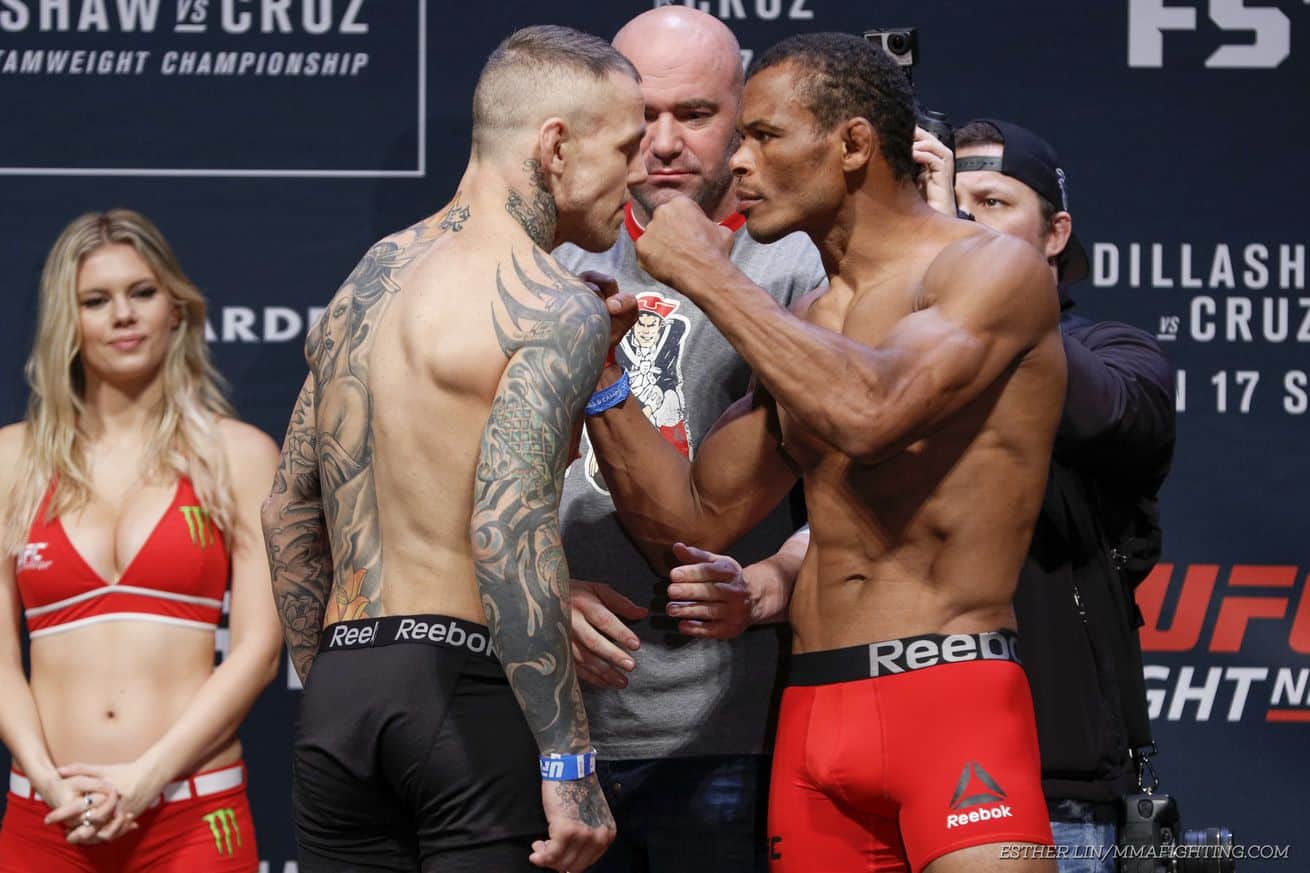 Ross "The Real Deal" Pearson vs Francisco Trinaldo – UFC Fight Night 81
ROUND 1
Both fighters come out cautiously to start the first round. They spend the first minute feeling each other out, testing their range but not committing to anything. Pearson could be called the aggressor because he is the one walking Trinaldo down, keeping the pressure on. After 3  and a half minutes it's more of the same. Trinaldo looks like he's purely focusing on counter striking Pearson.  Ding Ding, bell rings, round ends with no real fireworks except for Trinaldo getting a last second slam on Pearson. This round is a toss up because of that final move by Trinaldo, if not, it'd be a slam dunk for Pearson.
ROUND 2
Second round starts with both fighters looking a little more aggressive. Still not a lot of action as Trinaldo keeps backtracking and refusing to commit to engage Pearson. At 90 seconds into the round Trinaldo throws a kick to the body that Pearson grabs and uses to take Trinaldo to the ground. Pearson's in top position, but can't manage to do much with it except for one punch as Trinaldo manages to stand back up. Trinaldo catches Pearson with a kick and we finally have our first exchange. Trinaldo gets the best of it as several kicks and knees land on Pearson. Round goes to Trinaldo on the fact that he landed more shots.
ROUND 3
Trinaldo comes out aggressive, lands a big right hand to the head! It looks like he caught Pearson, but Pearson is one tough guy as he manages to compose himself and intelligently defend against Trinaldo's attacks. Trinaldo lands a head kick but Pearson grabs the leg and takes him to the ground. Pearson decides not to not engage on the ground and eventually Trinaldo gets up. Trinaldo looks like he's slowing down towards the second half of the round, but it may be too late for Pearson to take advantage. Round ends and it looks like the judges have a somewhat tough decision on their hands.
I have the fight 2 rounds to 1 for Francisco Trinaldo.
Judges Decision: Winner by Unanimous Decision, Francisco Trinaldo
Time for the next fight, Travis Browne vs Matt Mitrione!
As Always, let me know what you guys and gals thought of the fight on twitter @TheGuyBlog and Orlando@TheGuyBlog.com