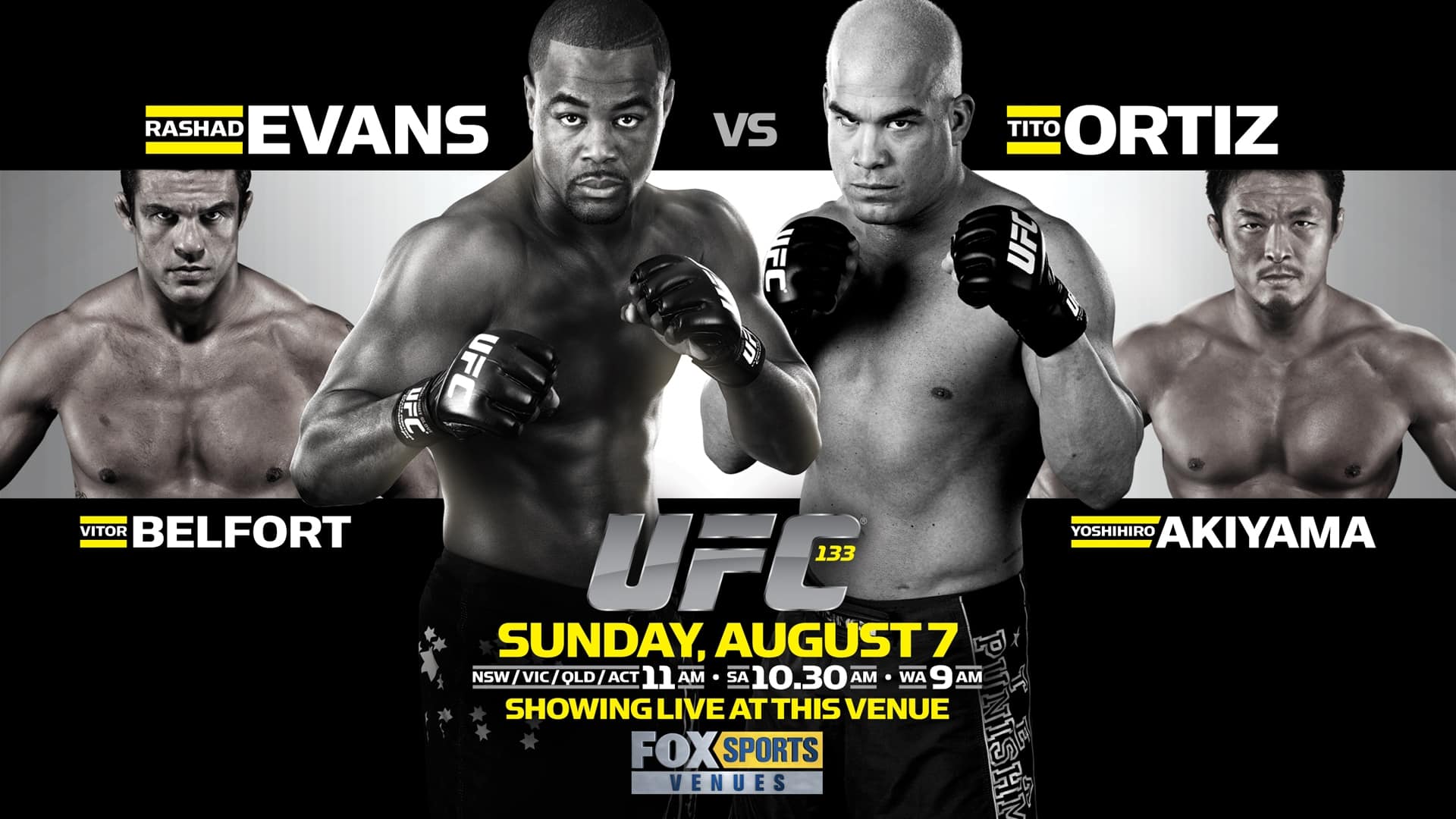 Honestly I was out and wasn't able to get home in time to watch all the fights on UFC 133, except for the last 2.
Belfort Vs. Akiyama
Vitor Belfort did what he is supposed to do in every fight. Be AGGRESSIVE and let his hands GO!!! If taken to the ground we know Vitors' pedigree in jiu jitsu and that he can handle himself there, so why dont his trainers tell him that he is at his best when he is the aggressor!!! Every time he is, an incredible fight happens, but he gets to a championship fight and holds back… and nothing good happens. I really hope he continues fighting like this and get another chance at the title (and takes advantage of it!).
Evans Vs. Rashad
Not impressed, at all (by Rashad). Evans needs to improve, period. Really, Tito was in various precarious positions and got out of them over and over. He stayed alive and even though he was beat (by seconds), he was close to submitting Evans if he just got his hooks in (despite what Evans would have you believe).
Rashad should've finished this fight a lot earlier after haven the upper hands so many times. He didn't, he almost got choked (AFTER TITO SAYING HE WAS GOING TO LOOK FOR THAT EXACT SAME CHOKE) and did not convince me that he is a #1 contender caliber fighter.  You can think what you want, but after this fight, how it went down, does anybody believe that Rashad looks like he improved to the level of being able to beat Jon "Bones" Jones… I dont. I dont think he has a chance at the title unless Jones comes down with a severe case of ring rust and loses to Rampage. Thats hard to believe but it can happen. But Evans beating Jones, I gotta see it to believe it.
Did you see UFC 133? What do you think?
FOLLOW ME:
Twitter:   @TheGuyBlog
Instagram: @TheGuyBlog