In one of the most emotional finales in the history of the Ultimate Fighting Championship (UFC), Chan Sung Jung, better known as the 'Korean Zombie', declared his retirement from the ring. Jung's journey, filled with passion, resilience, and indomitable spirit, has left an indelible mark on the MMA world.
The Korean Zombie Bids Adieu to MMA
After a heart-wrenching loss to Max Holloway at UFC Fight Night in Singapore, the 36-year-old South Korean fighter decided to bid adieu to his professional fighting career. This unexpected announcement following his third-round knockout loss was a symbolic moment, as Jung left his gloves in the center of the Octagon – a traditional signal of retirement.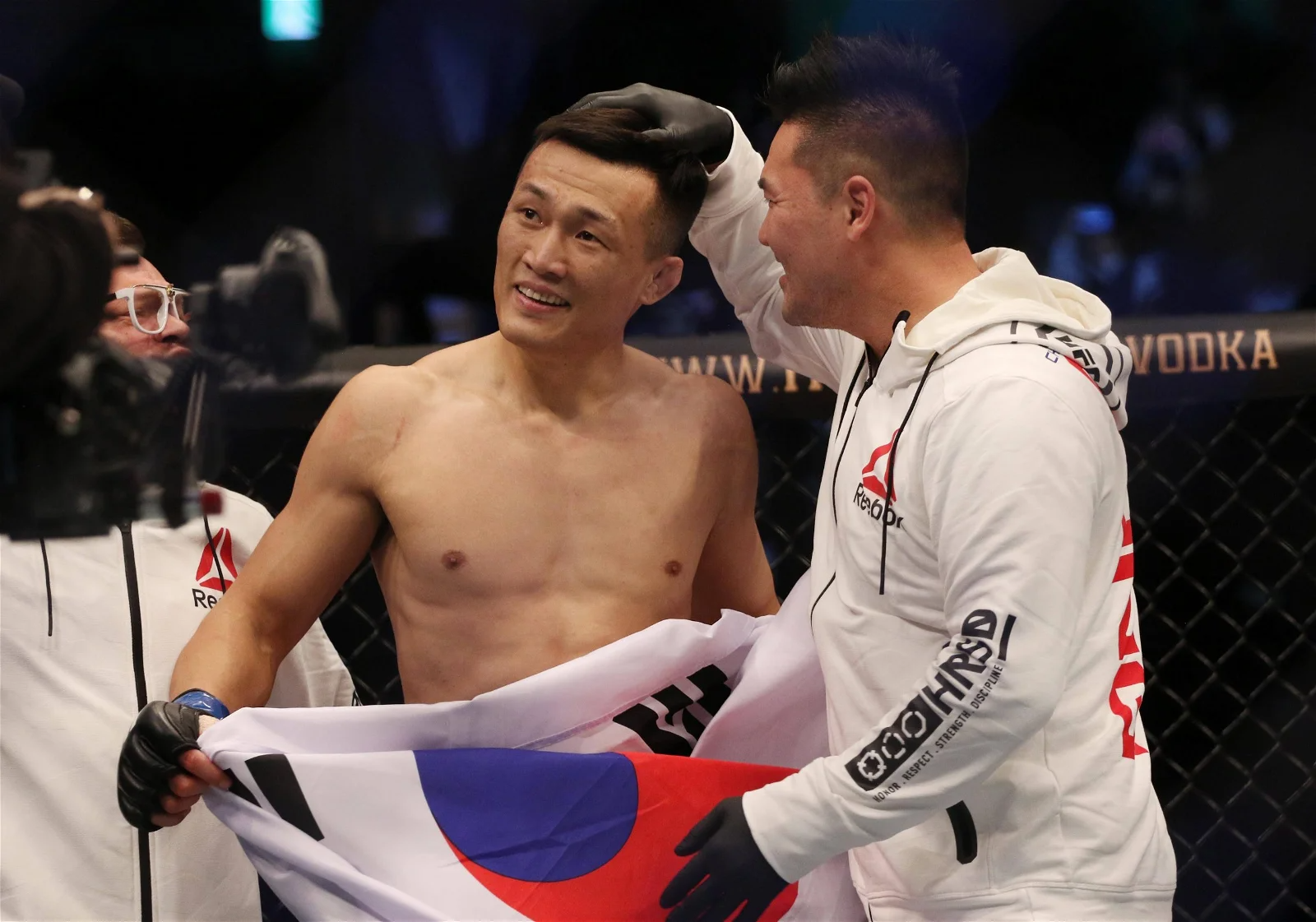 A Fighter's Journey: Tracing the Path of the Korean Zombie
Born in Pohang, South Korea, Jung moved to Namyangju, a city near Seoul, in his mid-teens. A victim of bullying due to his slight stature and rural origins, Jung took up Hapkido at 14. His martial arts journey continued with training in Kickboxing, Judo, Brazilian Jiu Jitsu, and Taekwondo.
Jung turned pro in 2007 and joined the UFC in 2011. Throughout his career, he showcased an impressive record of 17 wins in 25 fights, with eight victories by submission, six by knockout, and three by decision. The Korean Zombie quickly gained recognition for his relentless fighting style and exceptional resilience, earning him the nickname 'Korean Zombie.'
A Rollercoaster Career: Highs and Lows
Jung's initial UFC career was marked by a series of victories over notable fighters such as Dustin Poirier, Dennis Bermudez, and Frankie Edgar. However, this winning streak was followed by a period of struggle, with Jung losing three of his last four bouts.
In 2020, Jung faced a defeat against Brian Ortega but bounced back with a win over Dan Ige in 2021. The victory led to one of the most significant fights of his career at UFC 273 in April 2022, where he challenged Alexander Volkanovski for the UFC featherweight title.
The Final Fight: A Battle against Holloway
The much-anticipated fight against Holloway saw the Korean Zombie display his characteristic aggression, launching powerful combinations relentlessly. Despite a competitive first round, Holloway's domination was evident as he skillfully avoided Jung's assaults and countered with a devastating right-hand blow, flooring Jung.
Holloway's performance during the fight was impressive, managing to stun Jung with a left hook early on and dropping him with a right hand in the second round. The fight concluded with Holloway's rapid 21-second strike in the third round, rendering the Korean Zombie unconscious.
An Emotional Goodbye: The End of an Era
The Korean Zombie's decision to retire was confirmed in his post-fight interview, where he expressed his initial goal of becoming a champion, not just being a rank holder. Despite the disappointment of the loss, the reaction from the audience and fellow fighters was one of immense respect and admiration for his journey.
The MMA community, including notable fighters like Conor McGregor, paid tribute to Jung's career, acknowledging his contribution to the sport. McGregor tweeted, "Well done Korean Zombie. What a goer!" while other fighters expressed similar sentiments, appreciating Jung's resilience and aggressive fighting style.
Unforgettable Legacy: The Impact of the Korean Zombie
Despite the absence of a fairy tale ending, the Korean Zombie's parting from UFC was marked by the recognition of his remarkable fighting spirit. The Korean fighter's career, filled with highs and lows, has left an enduring impact on the world of MMA.
Jung's legacy extends beyond his victories. Known for his iron chin and aggressive style, he was a fan favorite, respected for his tenacity and ability to fight aggressively even after taking heavy blows. His retirement marks the end of an era, but his influence on the sport will continue to inspire future generations of fighters.
A Look at the Future: What's Next for the UFC Korean Zombie?
As the Korean Zombie steps away from the Octagon, the MMA world awaits to see what the next chapter holds for this legendary fighter. His journey from a bullied teenager to a revered fighter has been nothing short of inspiring.
His relentless spirit, combined with his technical skills and tactical acumen, will indubitably find new avenues, whether as a coach, mentor, or commentator. As Jung hangs up his gloves, the world of MMA salutes the Korean Zombie for his contributions to the sport.
The Korean Zombie's retirement from UFC marks the end of an era, but his legacy will continue to inspire and influence the future of MMA. As the world of MMA bids farewell to one of its most charismatic fighters, we look forward to seeing what the future holds for the Korean Zombie.
In Conclusion: Celebrating a Career Well Fought
Jung's retirement from UFC may mark the end of an era, but his legacy in the MMA world is far from over. The Korean Zombie has left an indelible mark on the sport, both through his impressive career record and his unforgettable fighting spirit.
In the face of defeat, he chose to retire with dignity, acknowledging his limitations, and expressing his gratitude to his fans and the sport. His journey from a bullied teen to a respected fighter in the MMA world is a testament to his tenacity, resilience, and unyielding spirit.
As the Korean Zombie steps away from the UFC, his legacy in the sport will continue to inspire future generations of fighters. His retirement may be a loss for the UFC, but his impact on the sport will continue to be felt for years to come.
So, here's to the 'Korean Zombie', a true warrior, a legend in his own right, and an inspiration for all aspiring fighters. His journey in the UFC may have ended, but his legacy in the world of MMA will endure.