Montreal, Canada. Monday February 15, 2016
The first Dominican to step on the UFC Octagon (The Ultimate Fighting Championship) "The Dominican Nightmare" Alex Garcia says he is ready for battle against Sean Strickland. He accounts on training hard to make do a good job in the UFC octagon and bring victory to all the Dominicans who will be watching his fight on February 21 in Pittsburgh, Pennsylvania USA.
"I feel very comfortable with the workouts, I'm happy for all the support I'm getting from my team, Tristar Gym, and Tomas Soñe (Papo). I'm ready to get the best results and give my best in the ring next 21 February ." -Alex Garcia (translated from spanish) 
Alex Garcia lives and trains in Montreal, Canada since beginning his mixed martial arts (MMA) career. "The Dominican Nightmare" made his debut in the summer of 2009 against Joel Vales in the AFC (Australian Fighting Championship) winning the fight via submission in the first round. He trains with Canadian welterweight fighter, and MMA legend, Georges St-Pierre at Tristar Gym. As a true mixed martial artist he has a mix of fighting styles he incorporates in the octagon including boxing, Brazilian Jiu Jitsu, wrestling and Muay Thai. Winning medals in Brazilian Jiu-Jitsu  tournaments and becoming National Champion in the AFC. Sporting a record of thirteen wins and two defeats, with the first coming in 2011 against Seth Baczynski (this victory earned Baczynski a ticket to the UFC). He states that this loss was a great learning experience that allowed him to evolve into a more rounded, professional fighter and learn to control much of his tools as a fighter. His victories are split into 5 by way of submission, 5 TKO / KO and 3 decisions, which shows how well rounded of a fighter he is and how he continues to grow.
His next fight versus Sean Strickland will be broadcast on the official channel of UFC, Fox Sports 1 (FS1) and in his native Dominican republic it can be seen on Claro TV -UFC Network channel 641 for SD and UFC Network HD channel 1641. Also Telecable Tricom – Fox Sport 2 channel 361 for SD and UFC HD channel 470.
A small look into who is Alex "The Dominican Nightmare" Garcia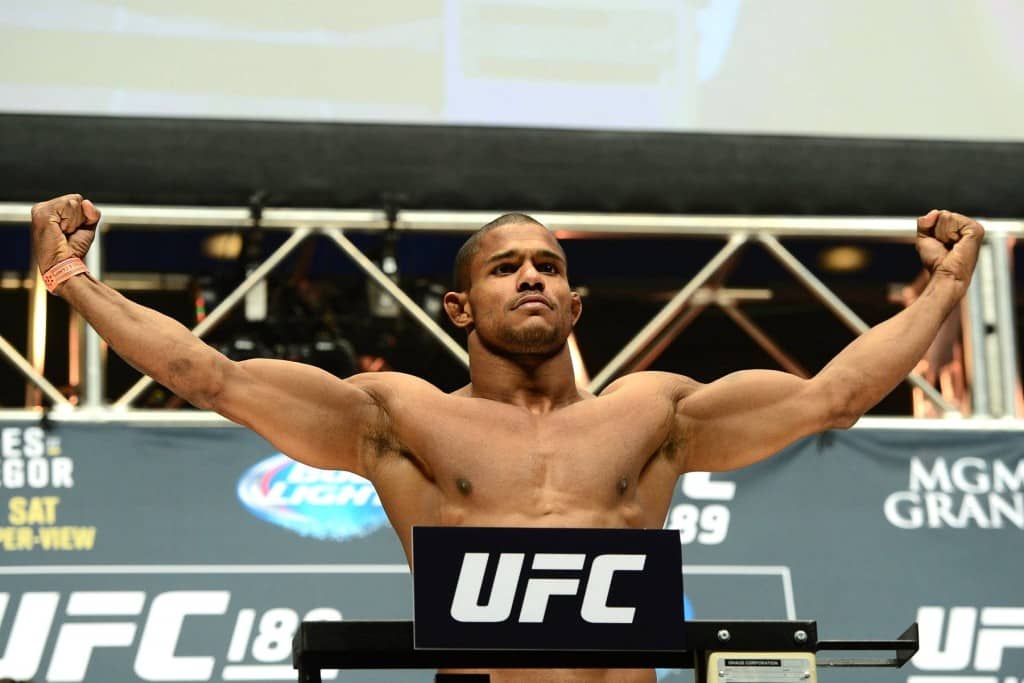 Alex Garcia is a Professional MMA fighter signed by The Ultimate Fighting Championship (UFC). October 8, 2013 it was announced that Garcia signed with the UFC and would make his debut at UFC Fight Night 33.
Born July 14, 1987, in Santiago and raised in Cabarete, he began to fight from 19 years of age, practicing Brazilian Jiu Jitsu at the Jiu Jitsu de la Costa Academy in Cabarete. He won medals in Brazilian Jiu Jitsu tournaments and was the national champion in Australian Fighting Championship (AFC). 5 feet 9 inches and weighing 170 pounds. His preferred submission is the triangle choke and the Dominican's preferred way of finishing a bout is by knockout. He competes in the welterweight division and is coached by Firas Zahabi, John Chaimberg, Peter Sisomphou, Eric O'Keefe. He's also trained by Bruno Fernandes, Victor Zilberman and Tomas Soñe (Papo).
To follow him on social media:
Instagram: @Alexgarciamma
Facebook: Alexgarciamma
Twitter: @Alexgarciamma
www.ufc.com/fighter/Alex-Garcia
Thanks to the great team at MSE for the press release and information.
MUSIC SESSIONS EVENTS
Instagram – Facebook – Vimeo
www.musicsessionsevents.weebly.com