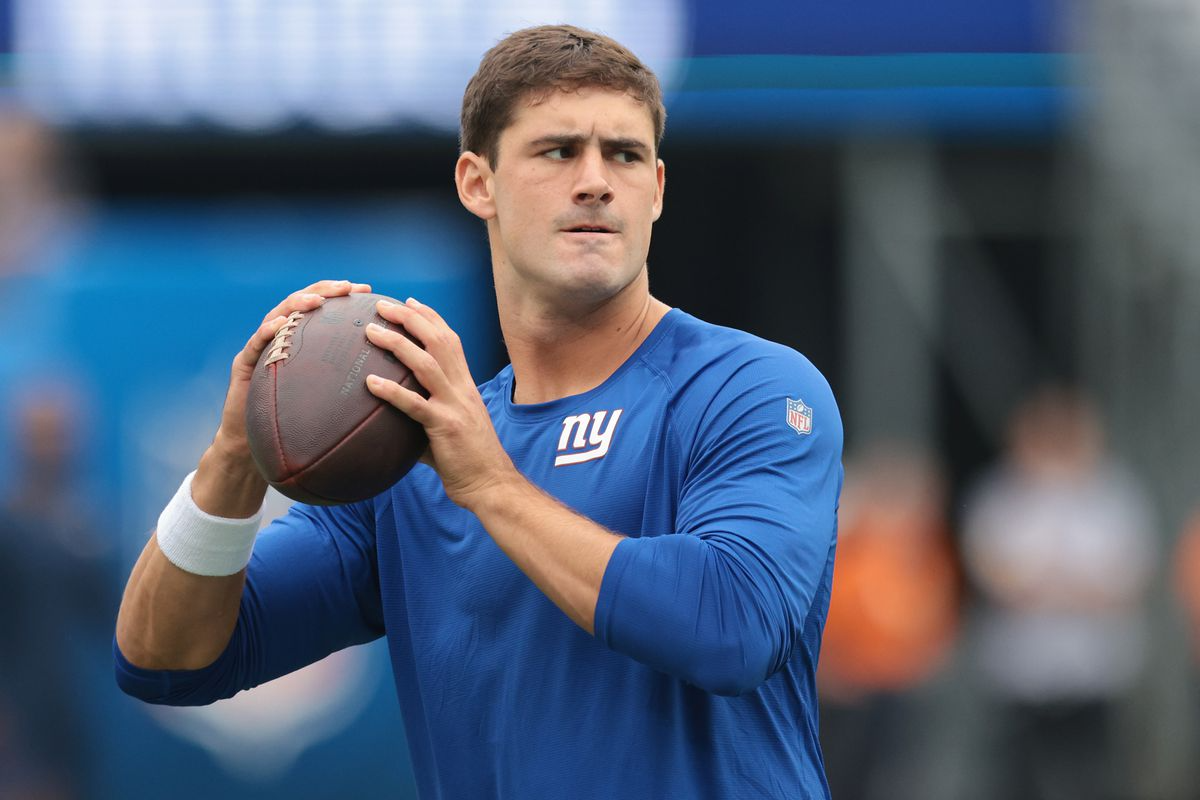 Photo bydimitrisvetsikas1969 onPixabay
Daniel Jones, the starting quarterback for the New York Giants, is making waves in the National Football League (NFL). His impressive performance and consistent growth have made him a standout player, deserving of recognition as one of the top 10 quarterbacks in the league. Let's dive into the reasons why Jones is commanding this level of respect in the NFL.
1. The Rise of Daniel Jones in the NFL
Daniel Jones, often referred to by his nickname "Danny Dimes," is an exceptional athlete who has proven his worth time and time again on the football field. He was born in Charlotte, North Carolina, and played college football at Duke University. Despite not being highly recruited out of high school, Jones' undeniable talent and hard work led him to be selected by the Giants in the 2019 NFL Draft with the sixth overall pick.
Jones' career in professional football kicked off with a bang. He showed remarkable progress in his first year, throwing for over 3,000 yards and 24 touchdowns. Each subsequent season has seen Jones push his stats even higher, demonstrating his growth as a player and his potential to become one of the NFL's elite quarterbacks.
2. Jones' Performance Compared to Other NFL Quarterbacks
Jones' stats are not just impressive in isolation. When compared to other quarterbacks in the league, Jones measures up very well. For example, his performance in the first 38 games of his career was remarkably similar to that of Josh Allen, a top-three quarterback in the NFL. This suggests that Jones has the potential to achieve superstar status like Allen.
Moreover, Micah Parsons, a star linebacker for the Dallas Cowboys, stated that there was no significant difference between Jalen Hurts, widely regarded as a top-five quarterback, and Jones. This endorsement from a seasoned player who has faced both quarterbacks multiple times underscores the high regard Jones commands among his peers.
3. Continuous Improvement: A Key Attribute of Daniel Jones
One of the most impressive things about Jones is his consistent improvement. Since his rookie season, Jones has improved his completion percentage, passing yards, and quarterback rating every year. He has also significantly reduced his interceptions, which has been a crucial factor in his growth as a quarterback.
Jones' ability to learn from his mistakes, adapt, and improve is a testament to his work ethic and commitment to the sport. He has also shown great resilience in dealing with adversity, whether it's an injury or a challenging game situation. These qualities, combined with his raw talent, make Jones a formidable player in the NFL.
4. Overcoming Challenges: Lack of Protection and Weapons
Jones' rise in the NFL has not been without its challenges. Throughout his career, he has often had to contend with a lack of protection due to a subpar offensive line. However, he has managed to overcome this obstacle through his agility, quick decision-making, and ability to make plays under pressure.
Furthermore, Jones has often had to make do with a lack of star talent at the receiver position. Despite this, he has consistently managed to distribute the ball effectively and make the most of the assets he has.
5. The Arrival of Competent Coaching
The arrival of competent coaching has also played a significant role in Jones' development as a quarterback. With Brian Daboll as head coach and Mike Kafka as offensive coordinator, Jones has been able to refine his skills and improve his game strategy. The positive impact of this coaching change is evident in Jones' improved performance on the field.
6. New Protection and Weapons for Jones
The Giants have made significant strides in improving the offensive line to provide better protection for Jones. They have also bolstered their receiving corps, providing Jones with more weapons to utilize on the field. With these improvements, Jones is poised to take his game to the next level and cement his status as a top 10 quarterback in the NFL.
7. Jones' Impact on the Giants' Success
Jones' impressive performance has been instrumental in the Giants' success. Under his leadership, the Giants have made it to the postseason for the first time since 2016, showing the positive impact of having a strong quarterback at the helm. Jones' contribution extends beyond his on-field performance. He is also a respected leader off the field, earning the respect of his teammates and coaches alike.
8. Jones' Future with the Giants
Given Jones' impressive performance and the value he brings to the Giants, it's no surprise that the team is keen to secure his long-term future. Despite the uncertainty surrounding his rookie deal, it is widely believed that Jones will be awarded a multi-year contract extension, cementing his status as the Giants' long-term starting quarterback.
9. Jones: A Top 10 NFL Quarterback
With his consistent growth, impressive performance, and ability to overcome challenges, Jones has proven that he is deserving of a spot among the top 10 quarterbacks in the NFL. He has shown remarkable resilience and determination, proving that he has what it takes to succeed at the highest level of the sport.
The Future Looks Bright for Daniel Jones
With his exceptional talent, continuous improvement, and the support of a strong coaching team, Jones is poised for even greater success in the future. As he continues to grow and refine his skills, there's no doubt that Jones will continue to make a significant impact in the NFL. Expect to see Daniel Jones' name among the top quarterbacks in the league for many seasons to come.
In conclusion, Daniel Jones is a remarkable athlete who has proven his worth in the NFL. Despite the challenges he's faced, Jones has consistently demonstrated his ability to improve and succeed. With his talent, determination, and the support of a strong coaching team, Jones is undoubtedly a top 10 quarterback in the NFL and a player to watch in the coming seasons.