Football season is here, and it's time to start planning for the biggest game of the year—Super Bowl Sunday! Whether you're a die-hard football enthusiast or just love the camaraderie of game day, throwing an epic Super Bowl party requires careful planning. To help you out, we've compiled a comprehensive Superbowl party essentials checklist. From decorating ideas for game day to slow cooker recipes for Superbowl Sunday, you'll find everything you need to make your Super Bowl bash a roaring success!
Pre-Game Prep: Building Hype and Getting Guests Excited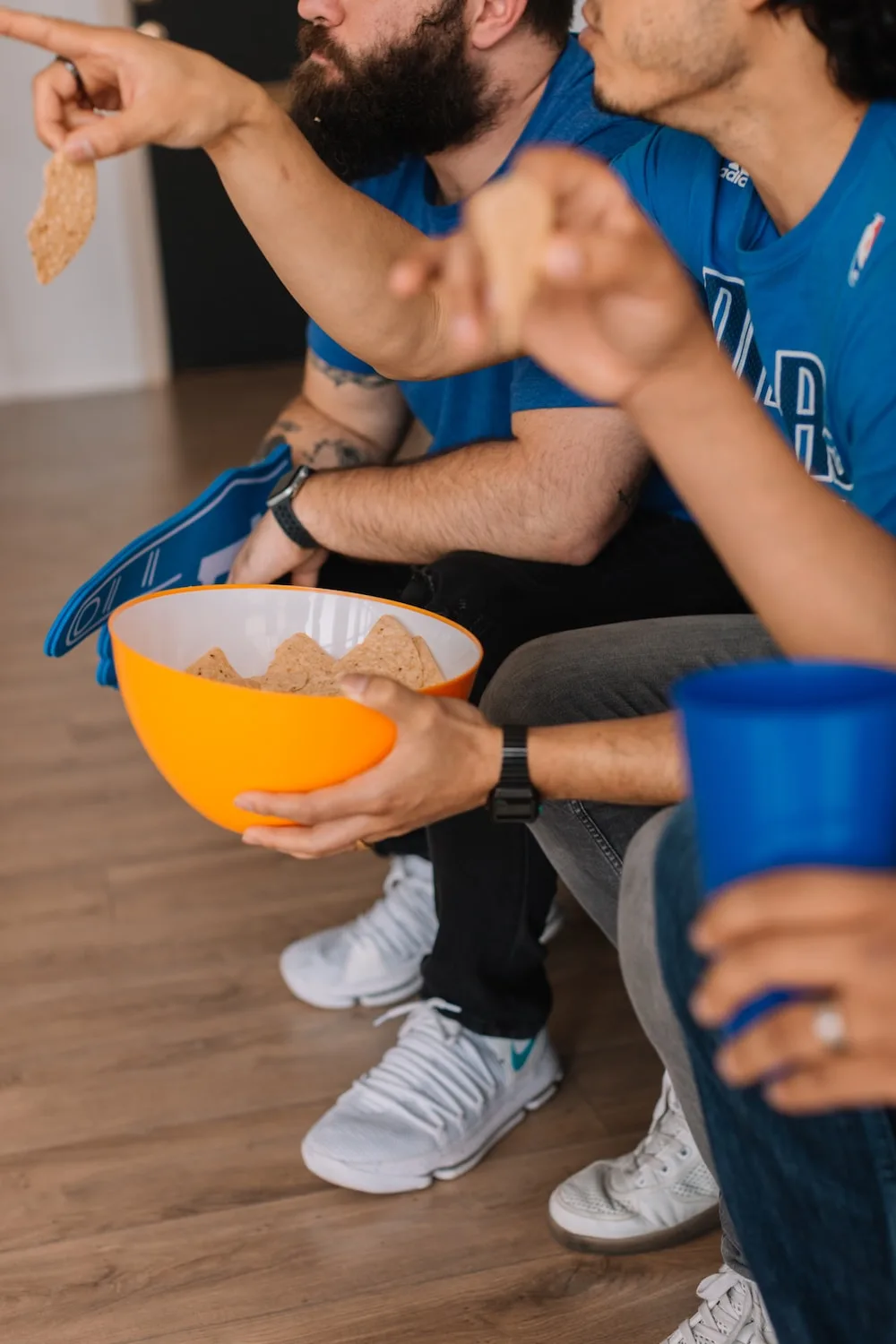 Image Source: Unsplash
Before the big day comes, you'll want to get your guests hyped. Start by sending out invitations well in advance. It's essential to decide whether you want a large gathering or a small, intimate affair. Once you've settled on a guest list, it's time to create and send out invitations. You could use traditional paper invites, but for a more modern and eco-friendly option, consider using digital invitations.
Create a Buzz with Digital Invitations
Digital invitations are not only easy to create and send, but they also allow guests to RSVP online, making it easier for you to plan. Websites likeEvite orPaperless Post offer a variety of customizable Super Bowl-themed invitations.
Pre-Game Teasers
In the weeks leading up to the party, consider sending out 'pre-game teasers' to your guests. These can be fun facts about the teams playing, trivia questions, or even clues about what's on the menu. This will not only build anticipation but also stoke the competitive spirit among your guests.
Decorating Ideas for Game Day
Creating a festive atmosphere is vital to any successful Super Bowl party. You don't need to go overboard with decorations—just a few strategic touches can make a big difference.
Team Colors
One of the easiest ways to decorate for a Super Bowl party is by using the team colors. Balloons, streamers, and tablecloths in the team colors can instantly create a festive atmosphere. You could also consider using colored paper plates and napkins to add an extra touch.
Football-Inspired Decorations
Football-inspired decorations can add a fun element to your party. Think football-shaped balloons, banners with football prints, and even tablecloths that resemble a football field. You can find many of these items at party supply stores or online.
Themed Centerpieces
Consider creating themed centerpieces for your tables. These can be as simple as a bowl filled with footballs, a trophy, or even mini helmets of the teams playing. You could also create a snack stadium—a centerpiece made entirely of snacks that resembles a football stadium. Not only is it a fun decoration, but it also doubles as a delicious appetizer station!
Fan Gear and Props
You can't have a Super Bowl party without some fan gear and props. Encourage your guests to come dressed in their team's jerseys or colors. You can also provide a selection of fun props for your guests to use during the game.
Face Paint
One fun idea is to provide face paint in the team colors. This will allow your guests to show their team spirit and add an extra element of fun to your party.
Photo Booth
Consider setting up a photo booth with props like foam fingers, football helmets, and team banners. This not only provides entertainment during commercial breaks but also gives your guests a fun memento from the party.
Tasty Finger Foods and Appetizers
When it comes to food at your Super Bowl party, think finger foods and appetizers. These are easy to eat while watching the game and can be prepared in advance.
Chicken Wings
No Super Bowl party would be complete without chicken wings. They are a classic game day food and can be made in a variety of flavors to please all palates. From spicy buffalo wings to sweet honey-barbecue wings, this versatile dish is sure to be a hit.
Dips and Chips
Dips and chips are another must-have at any Super Bowl party. Consider making a selection of dips like guacamole, salsa, and spinach and artichoke dip. Serve these with a variety of chips for a simple yet delicious snack.
Sliders and Mini Hot Dogs
For something a bit more substantial, consider serving sliders or mini hot dogs. These are easy to eat and can be customized with various toppings.
Slow Cooker Recipes for Super Bowl Sunday
Slow cooker recipes are perfect for Super Bowl Sunday. They can be prepared in advance and kept warm throughout the game.
Chili
Chili is a hearty and comforting dish that's perfect for game day. You can make a classic beef chili or try a chicken or vegetarian version. Provide toppings like shredded cheese, sour cream, and green onions so guests can customize their bowl.
Pulled Pork or Chicken
Pulled pork or chicken can be served in sandwiches or sliders. It's easy to make in a slow cooker—just set it and forget it. The tender, flavorful meat will be a hit with your guests.
Buffalo Chicken Dip
This creamy, spicy dip is always a crowd-pleaser. It's made with chicken, cream cheese, buffalo sauce, and ranch dressing. Serve it with celery sticks and tortilla chips for dipping.
Fun Drinks to Serve at a Super Bowl Party
Of course, you'll also need drinks for your Super Bowl party. In addition to a selection of beers, consider making a signature cocktail for each team.
Beer
Beer is a traditional choice for Super Bowl parties. You can offer a variety of local beers, popular national brands, and craft options. To keep things fun, you could even host a beer tasting during the game.
Signature Cocktails
Signature cocktails can add a fun element to your party. You could create a cocktail that represents each team's city or colors. For example, a blue margarita for the Patriots or a peach bellini for the Falcons.
Non-Alcoholic Options
Don't forget to provide non-alcoholic options for those who don't drink alcohol. Soft drinks, iced tea, and lemonade are all good choices. You could also make a non-alcoholic punch or mocktail.
Creative Super Bowl Party Themes and Menu Ideas
If you want to take your Super Bowl party to the next level, consider choosing a theme. This can help guide your decorations, menu, and even the games you play.
Tailgate Party
Create the atmosphere of a tailgate party right in your living room. Serve classic tailgate foods like burgers, hot dogs, and nachos. Set up games like cornhole or ladder toss for guests to play during halftime.
Commercial Bingo
Some people enjoy the commercials more than the game itself. Turn this into a game by creating bingo cards with common commercial themes or brands. Players can mark off squares as they see the corresponding commercials.
City-Themed Menu
Pay homage to the teams' cities with your menu. For example, if the Patriots are playing, you might serve New England clam chowder or Boston cream pie.
Activities and Entertainment Besides the Game
While the game is the main event, it's a good idea to have other forms of entertainment available. This can help keep guests entertained during commercial breaks or if the game gets slow.
Football Trivia
Test your guests' football knowledge with a trivia game. You can ask questions about the teams playing, Super Bowl history, or general football knowledge.
Halftime Show Predictions
Before the game, have guests make predictions about the halftime show. They could guess which songs the performer will sing, what they'll wear, or if there will be any surprise guests.
Commercial Rating
Have guests rate the commercials. After each commercial break, guests can give each ad a score. At the end of the night, tally up the scores to see which commercial was the favorite.
Cleanup Tips After It's Over
Once the party's over, it's time to clean up. Here are some tips to make the process easier:
Use Disposable Tableware
Using disposable plates, cups, and utensils can make cleanup a breeze. Just make sure to provide plenty of trash cans and recycling bins for guests to use.
Prep the Night Before
Prep as much as you can the night before the party. This includes prepping food, setting up decorations, and cleaning your home. The less you have to do on the day of the party, the better.
Enlist Help
Don't be afraid to ask for help. Whether it's asking a few close friends to arrive early to help set up, or asking guests to help clean up after the party, most people will be happy to lend a hand.
Throwing a Super Bowl party can be a lot of fun, but it does require some planning. With this Superbowl party essentials checklist, you'll have everything you need to throw a killer Super Bowl party. So whether you're rooting for your favorite team or just there for the snacks, you'll be ready to host a memorable event. Happy planning, and enjoy the game!